CAKE

 

STACKERS™

 SQUARE 
WEDDING CAKE STAND

Square Supports Available Online Here!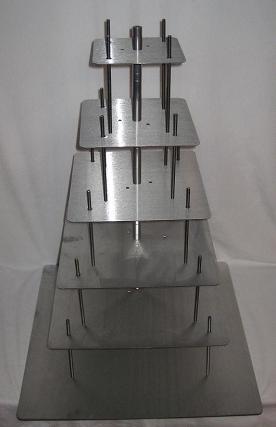 Cake Stackers™ Square wedding cake stand will hold up under the toughest conditions during transport and delivery.
Designed by cake decorators to make stacking cakes easy, secure, and perfectly straight. The square cake design for weddings is becoming more and more popular.
The difficulty in stacking square wedding cakes is that straight lines are easier to see faults in than curved ones. Having a perfectly straight wedding cake is critical especially for a square cake.
Cake Stackers™ takes all of the guess work out of aligning cakes straight. Even if your cakes are not level, our square wedding cake stand will stack them up perfectly straight.
Our stacking system is easy to use and requires no hammering or cutting of dowels. Simply assemble the square cake stand as you stack the cakes.
Ever have a cake shift, slide, fall, or sag? Never again will you have this problem during delivery or set up. Cake Stackers™ canturn sideways or completely upside down without your cakes falling off!
Deliver cakes like this square wedding cake design already stacked and decorated without worrying about bumps along the way. The most stressful part of the wedding cake business is the delivery and set up. Cakes just don't travel well. Road bumps, turns, sudden stops, crazy drivers, are a gauntlet on the delivery but once you get to the venue it gets even worse!
Then you have stairs, doors, steps, turns, elevators, people, and a maze of tables and chairs to avoid. Whew! All the while having to keep the wedding cake level and hoping it doesn't shift, slide, or fall.
Your cake clients will be impressed with the professional look of a perfectly straight wedding cake. Brides will have one less thing to worry about knowing their cake is held secure.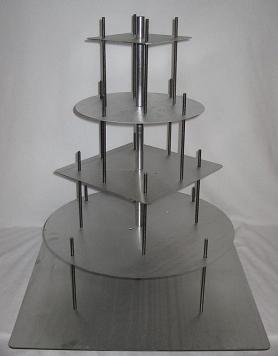 Customize your square wedding cake stands design to meet any style. Available designs include the cascading cake stand, spiral cake stand, tiered cake stand, offset tiered cake stand, tall, staggered, traditional, and stairs all in one versatile cake stand set.
The Cake Stackers™ versatile stacking system replaces the need for multiple stands for each design. You can even use it as a tiered cupcake stand with a small cake topper!
Focus attention on the beautiful decorated wedding cakeand not the wedding cake stand. The Cake Stackers™ wedding cake stand actually disappears inside the wedding cake and gives the appearance of several cakes stacked perfectly straight balanced on each other.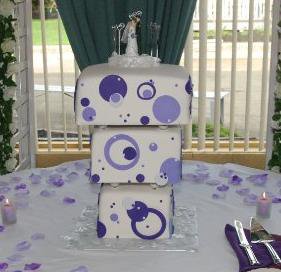 Cake Stackers™ accepts cake tiers from 3.5 inches to 6 inches or double or triple them for heights of up to 18 inches per tier. Each 3.5 to 6 inch cake tier is individually supported and carried safely by the square all metal cake stand.
Widths are available in 18 inches to 6 inches in both square and round to accommodate most any size wedding cake design.
Support your cakes! try the Cake Stackers™ square wedding cake stand and decide for yourself!
Questions? Ask us about our square wedding cake stand here.
Come on in! Visit our home page.
Copyright Wedding-Cake-Stands.Com 2009-2017

US Patent #8490553B1 Int'l Patent #10468490US